This is Number 18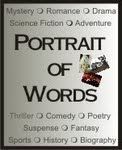 This is me. The photo was taken when I was three, my mother says even then, she knew I was going to be a dreamer. A girl without an anchor...drifting through life until something external could grab me...anchor me...SAVE ME.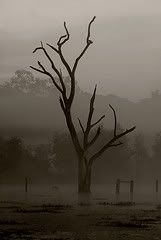 It's odd how a picture like this will bring about the feelings I had when I was growing up. I was a child who appeared on the outside....as...an outsider! It was so very hard to find common ground between me and my peers. I hated dolls. I could see no use in playing house, putting me in a dress was an exercise in futility. I was not a lady, nor would I ever learn to be one. It wasn't in my genetic makeup...somehow, that gene seemed to skipped over me to my sister. So, I often felt alone and dark. I often felt similar, I imagine, to how this swamp feels. Alive with unseen, unknown life. A senescent being, aware of herself, aware of her surroundings. Aware that both boys and girls regarded me as a swamp, an unknown entity. Something to be avoided and sneered at. A being whose essence was not understood, and left to figure her own way about the swamp...find the good things that lived within, and become a unique being unto herself.
Sometime after my forties, I came fully into myself. The light-bulb came on, the storm clouds parted and the rainbow of light and inspiration burst through. While nothing happens overnight, the light of happiness found a crack in my horrible dark and cloudy swamp. I started to discover and remember all the great things about this swamp that gives it the live many find irresistible! How could life have taken all the weird twists it did, to bring me here to this joyous place I live in today? I wonder...does everyone have these swamps that surround them? Do most find their way out earlier than others? Am I as unique as I like to think I am? Well of course, I AM....but just because of my perspectives and my way of processing adventures...not because of my dismal swamp years...I know now, we all have those.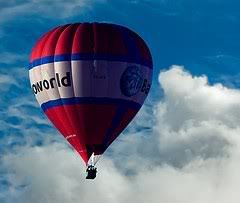 I often find myself feeling as if I've soared into the high reaches of the swirling breezes. I'm feeling a lightness, a giddiness... and I think I can float above the confines of the troublesome, earthbound sorrows. I have a ground crew who follow me around. They try to make sure when I land, that it is not too bumpy or full of other types of obstacles to take me from a joyous mood to a deep, dark cavern of dense feelings, writhing to spill out from the carefully constructed woven basket that is my psyche.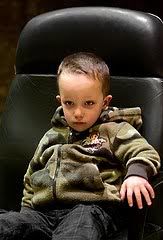 When the darkness encroaches upon me, it's easy for me to identify it...to label it...and to visualize it, as this dark immature kid, sitting in the chair of leadership, taking retribution on the things I love around me. Causeing pain both physically and mentally. What a mean spirited child it is who sits in that chair of leadership, but it helps to remember to see this image of myself. It causes me to laugh, become aware once more of the consequences of my actions and moods.
It's time to hide that selfish, mean little brat. I see there are millions of small sheds where I can push my memories, my emotions, my thoughts of brilliance or the shameful thoughts of evil. These are the sheds in the bright concentrated areas of my meandering soul. These are the places I've been, as well as the new places I will find myself. You never really know what you will find behind the doors of the sheds in your mind...